Robotics Commissioned at Skyline Luge Calgary
30 June 2013
Engineering Manager Brent Webster has just completed commissioning a world first robotic automation system at the new Skyline Luge Calgary.
EIS designers and control system engineers started researching and developing the system in July last year, when Skyline Director Bill Walker came to us looking for a solution to make this latest luging operation more efficient and safer for their staff to operate.
The system that employs two unique robots specifically designed for the Calgary luge. One robot loads the luge carts onto the chairlift from the bottom of the run, while the other unloads them 100 metres up, at the top of the 1.6km track.
Having the robots in place means there is no need for Skyline employees to lift the 30kg carts by hand, thus avoiding the injury risk associated with such heavy lifting.
As part of the design process, EIS collaborated with local mechanical engineers JK's & WBE to manufacture a prototype which they used to perform robotic testing in Invercargill, before the design headed offshore to be manufactured and commissioned in Calgary.
The most important consideration for this project was health and safety.
Most robotic automation systems are used in confined spaces with trained staff. With this though, we had to remember that the system would be outside, in a public domain with hundreds of people coming and going nearby.
As well as providing the system design and automation software, EIS facilitated and liaised with subcontractors in Calgary to construct and install the robots. Once installation was complete, Brent travelled to Calgary to perform on-site safety verification testing, before the attraction opened to the public for the 2013 summer season.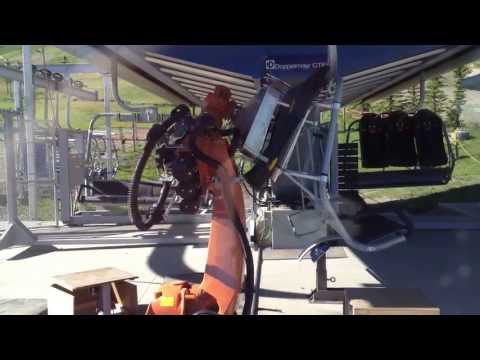 Brent Webster calibrating the robot on-site at Skyline Luge Calgary.

The robot picking up luge carts at the bottom of the track...

...and loading them onto the chairlift